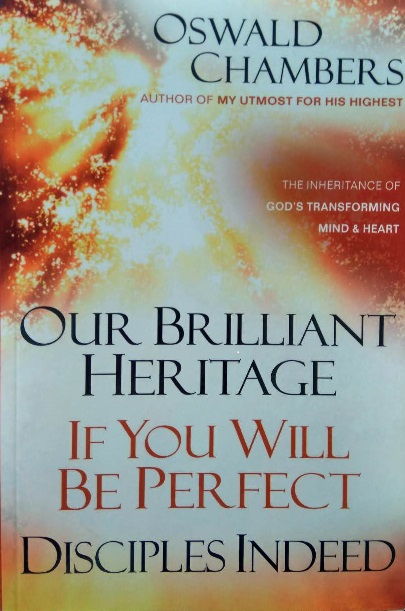 Title:             Our Brilliant Heritage, If You Will Be Perfect, Disciples Indeed
Author:        Oswald Chambers
Imprint:       U.S., Discovery House, 2013
Collation:    358pages; 136*203mm
ISBN:            978-1-57293-042-1
Class Code: 培灵 O B H I -OC
God has entrusted humanity with His Word and He intends to demonstrate His character through His disciples. When our minds are focused on God and we are growing in the realization of the purity of Christ's heart and His wonderful strength and power, we will find that that same characteristic is being worked out in us. In this three-in-one-volume, Oswald Chambers writes, 'Sanctification must be the direct gift of God by means of the instrument of the most earnest, intense, and personal faith.' Chambers says no one can acheive sanctification; we must inherit and appropriate it through a vital relationship with God through Christ.
Three timeless books in one volume!
Touching on a wide range of subjects,from Christian principles to the human mind, discipleship to biblical ethics,they take you to the heart of Oswald Chambers' message for the "equipping of the saints" (Ephesians 4:12).
If you want to follow Christ daily,to walk with God as a faithful disciple and know His presence in your life, to understand some of the deeper mysteries of spiritual living, this book is a treasure trove of wisdom.
Oswald Chambers (1874-1917) was born July 24, 1874, in Aberdeen, Scotland. He came into a personal relationship with Jesus as his Savior in his teen years under the ministry of Charles Haddon Spurgeon, and studied art and archeology at the University of Edinburgh before answering a call from God to the Christian ministry. He then studied theology at Dunoon College.
From 1906-1910 he conducted an itinerant Bible-teaching ministry in the United States, the United Kingdom, and Japan.
In 1910, Chambers married Gertrude Hobbs. They had one daughter, Kathleen.
In 1911 he founded and became principal of the Bible Training College in Clapham, London, where he lectured until the school was closed in 1915 because of World War I. In October 1915 he sailed for Zeitoun, Egypt (near Cairo), where he ministered to troops from Australia and New Zealand as a YMCA chaplain. He died there November 15, 1917, following surgery for a ruptured appendix.
Although Oswald Chambers wrote only one book, Baffled to Fight Better (since updated and titled Our Ultimate Refuge), more than thirty titles bear his name. Mrs. Chambers, a court stenographer, compiled the rest of her husband's published works from her verbatim shorthand notes. For half a century following her husband's death she labored to give his words to the world. <My Utmost For His Highest>, his best-known work, has been continuously in print in the United States since 1935 and remains in the top ten titles of the religious book bestseller list with millions of copies in print. It has become a Christian classic.