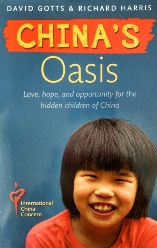 Title:              China's Oasis: Live, hope and opportunity for the hidden children of China
Author:         David Gotts & Richard Harris
Imprint:       U.K., Monarch Books,2018
Collation:     271 pages; 129*196 mm
ISBN:            978-0-85721-901-5
Class Code: 培灵 C O -DG
How faith led one man to help hundreds of disabled children in China.
It took the death of tiny baby Rose for a young man to demonstrate that every single life has value, even those of fragile, disabled children. She seemed insignificant but her life mattered, and sharing her story means she will never be forgotten. Hundreds of children have received love, hope and opportunity because of Rose's short life, and that number grows daily. China's Oasis is the story about International China Concern and David Gotts who started it at the age of 22. ICC provides love hope and opportunity for China's abandoned and disabled children. They operate orphanages in three locations in China: Changsha, Hengyang, and Sanmenxia; supported by eight National Offices around the world. Over three hundred children have received full time, life-changing care, and the same number again have been adopted. We hold many firsts for NGO work in China. This books shows that ordinary people can do extraordinary things through faith and love.
Richard Harris has been involved in pioneering investment management in Asia at senior levels for global and regional banks. He is currently CEO of Port Shelter Investment Management. Richard is a prolific thinker and contributor to the press, radio and worldwide business television on global finance. He presents a prime time business show on Radio Hong Kong (RTHK) is a regular political and business commentator on CNBC and Bloomberg, as well as being a weekly columnist for the South China Morning Post.
"If you have ever wondered what God could do with a fully surrendered heart, China's Oasis is the book for you. David's story is as grand and fascinating as the country in which it is based. From the smallest of beginnings with one child called Rose to an organization spread all over the world, this is a human story of compassion, love, and generosity. Heartbreaking and hope-filled at one and the same time, David's journey with China's abandoned children is the kind of gritty and courageous inspiration we need for this time. This book should come with a warning label. Don't read it if you wish to remain sceptical about the kindness of the human heart." ——Andrew Gardener, Senior Pastor, Vine Church, Hong Kong
"The book you hold in your hands represents the work, sacrifice and love of hundreds of people over the past twenty-five years. Led and inspired by Dave Gotts, they came from around the world to share their passion and compassion with children in China. This book is also testament to God's love, exhibited through so many lives in so many ways. As ICC embarks on its second quarter-century of providing love, hope, and opportunity to children with disabilities, we look to the accomplishments of the past while relying on God's guidance for the future."—— Peter Maize, CEO, ICC
"This is a truly amazing story of an organization dedicated to caring for the "least of these", told through the lives of those who dared to believe for the impossible." ——Tony Read, Chairman, The Justice Conference Asia
"China's Oasis is a heartbreaking and heart-warming read. The first chapter had me hooked. The authors tell the ICC story honestly as insiders with outsider objectivity, which is no small feat. I ended up with an even greater appreciation for this NGO and the ordinary people who have created such an extraordinary organisation." ——Gregory Anderson, Senior Pastor, Union Church, Hong Kong
"Some twenty years ago, my wife and I had the honour of connecting with David Gotts and ICC. Back then we were so moved by David's vision and leadership, and now we are celebrating ICC's continued growth and unique place in serving the beautiful people of China. Thank you, David, for your perseverance and faithfulness. China's Oasis captures the joy and tears of this incredible journey. Read it, and be challenged and blessed." ——Scott Harris, Missions Minister, Brentwood Baptist Church, Tennessee