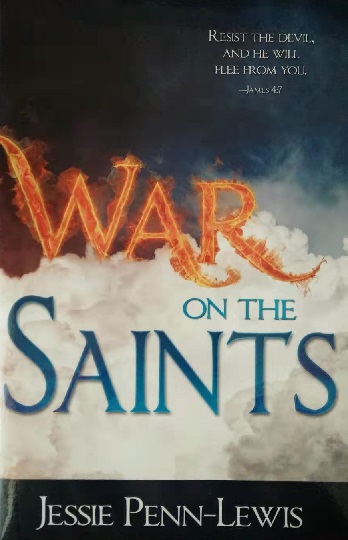 Title:                 War On The Saints
Author:            Penn-Lewis, Jessie, 1861-1927.
Imprint:          U.S.A.: NewKensington, Whitaker House, 2017, ©1996.
Collation:        222 p., 140*215 mm.
ISBN:                978-1-62911-837-6
Class Code:     培灵 W O T S -JPL
The classic book on spiritual warfare – the unabridged original with appendices, not one word changed, not one word cut.
A brilliant, highly accurate description of specific ways by which the powers of darkness work to confuse, deceive, oppose, afflict, mislead or bind believers – and how to detect, oppose and overcome them. An advanced text, not for quick or easy reading. Requires study – yields keen, sure understanding. Thomas E. Lowe, Ltd. restored this full original text to the public in 1973 after many years in which the editors of the condensed edition had opposed its publication.
Today, Mrs. Penn-Lewis's books are still widely read by Christians and deservedly so, but there is a significant exception: her most important book, War on the Saints, written in collaboration with the famous Welsh revivalist, Evan Roberts, had been only available in an abridged version. There are many books which can be abridged without losing content, but in the case of War on the Saints the word "abridged" is certainly the wrong one simply because the main thrust of her vital book was eliminated in the abridged and emasculated version. The editors based their decision to discontinue the original version "first and foremost" on their rejection of the important teaching regarding demon influence on Christians.
Jessie Penn-Lewis (1861-1927) was a Welsh evangelical speaker and author of a number of Christian evangelical works. Early life Penn-Lewis was born in Victoria Terrace, Neath in 1861. Her father was a Methodist minister. She was married to William Penn-Lewis.
Welsh revivalShe was involved in the 1904-1905 Welsh Revival, one of the largest Christian revivals ever to break out, although the revival was abruptly shortened with the mental and physical collapse of one of the leaders, Evan Roberts. Penn-Lewis traveled internationally to take her message to audiences in Russia, Scandinavia, Canada, the U.S., and India.
Penn-Lewis was close to Evan Roberts and there is some controversy associated with her influence over him. After the breakdown by Roberts cut the revival short, he stayed with the Penn-Lewis's for a couple of years, but never fully recovered. Ultimately, Penn-Lewis declared some of phenomena of the Welsh Revival to be the work of Satan, declaring her still controversial position in her book on spiritual warfare called War on the Saints, which describes the work of demons on Christians, the theme for which Penn-Lewis is most known.