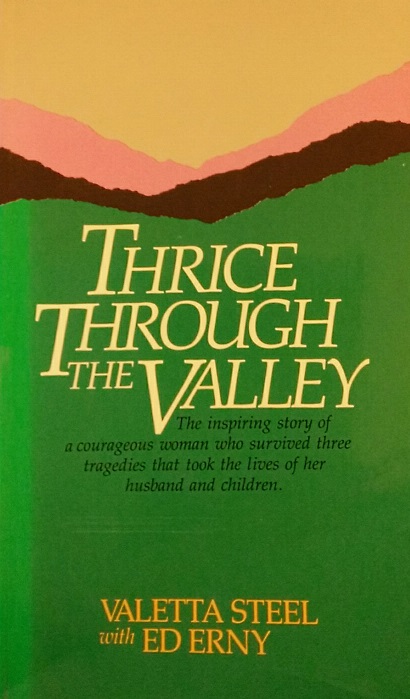 Title:                Thrice Through The Valley
Author:           Valetta Steel with Ed Erny
Imprint:         Valetta Steel, ©1986
Collation:      158 pages;107*178 mm
ISBN:              CCCN-86-50200
Class Code:  见证 T T T V -VSEE
The inspiring story of a courageous woman who survived three tragedies that took the lices of her husband and children.
'Mrs. Steel, it's getting colder. The rain is turning to ice. There has just been an accident on the 37 bypass. I'm sorry to have to tell you that your children and their friend have just been killed.'
Suddenly I felt as if I had been pushed over a high cliff into a wild, seething sea, unable to swim. But remarkably, at that very moment, I felt myself in the strong embrace of the Spirit of God.
I was lifted upward, above the cold winter trees, sweetly, securely, into the warm presence of my Father. With a calm, which I instinctively knew had its source from beyond my own being, I heard myself say, "Officer, I know where they are. They are with God."
Valetta Steel is a missionary with OMS International in Taiwan. A graduate of Indiana University-Purdue University. Valetta attended Spring Arbor College before marrying Henry Steel, whose battle with Hodhkin's Disease is documented in the book <Under the Sentence of Death>,now in its eighth printing.