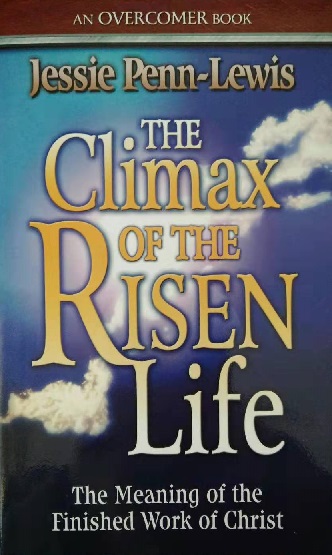 Title:                  The Climax  Of  The Risen Life
Author:             Penn-Lewis, Jessie, 1861-1927.
Imprint:           U.S.A.: Fort Washington, CLC Publication, 2003; ©1901
Collation:        104 p., 108*178 mm.
ISBN:                0-87508-941-0
Class Code:     培灵 T C O T -JPL
How to know the POWER of Christ's Resurrection. How to share Christ's VICTORY in any situation.
Jessie Penn-Lewis gives clear valuable instruction on the various aspects of the believer's identification with Christ in His death, burial and resurrection. All Christians who cry with the Apostle Paul, "That I may know Him and the power of His resurrection… being made conformable unto His death," will find help from a careful consideration of these pages.
Jessie Penn-Lewis (1861-1927) was a Welsh evangelical speaker and author of a number of Christian evangelical works. Early life Penn-Lewis was born in Victoria Terrace, Neath in 1861. Her father was a Methodist minister. She was married to William Penn-Lewis.
Welsh revivalShe was involved in the 1904-1905 Welsh Revival, one of the largest Christian revivals ever to break out, although the revival was abruptly shortened with the mental and physical collapse of one of the leaders, Evan Roberts. Penn-Lewis traveled internationally to take her message to audiences in Russia, Scandinavia, Canada, the U.S., and India.
Penn-Lewis was close to Evan Roberts and there is some controversy associated with her influence over him. After the breakdown by Roberts cut the revival short, he stayed with the Penn-Lewis's for a couple of years, but never fully recovered. Ultimately, Penn-Lewis declared some of phenomena of the Welsh Revival to be the work of Satan, declaring her still controversial position in her book on spiritual warfare called War on the Saints, which describes the work of demons on Christians, the theme for which Penn-Lewis is most known.