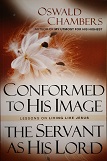 Title:                Conformed to His Image / Servant as His Lord: Lessons on Living Like Jesus
Author:           Oswald Chambers
Imprint:         U.S., Discovery House , 1996
Collation:     224 pages; 136*203 mm
ISBN:             1-57293-020-9
Class Code: 培灵 C T H I -OC
Growing spiritually is a well-known Christian responsibility, but where can you go to find time-tested, biblical wisdom to guide you?
This collection by Oswald Chambers, considered one of the most influential teachers of the 20th century, brings you answers and practical applications to help develop your spiritual life.
This well-known author of My Utmost for His Highest walks you through topics like spiritual failure and frustration to help you find the authentic Christian life you desire.
Oswald Chambers also shows you how God uses adversity to reveal Himself and give your life a quality of Christ-likeness.
Let go of the "old you" and become a new creature in Christ. In Conformed to His Image Oswald Chambers invites you to do this. Then he offers you a practical guide that will move you out of your doldrums of spiritual failure, frustration, and listlessness into the Christian life as you have imagined it could be.
With startling clarity, Chambers proves once again that the Christian life of power and satisfaction is not just for "saints" but for everyday believers. "The transformed life is not merely possible. It is the birthright of every Christian."
In The Servant as His Lord, Chambers explores with compassion and insight why Jesus Christ predicted that His followers would experience many tribulations. But he goes on to show how God gives us a fighting chance to triumph, and he explains that Jesus Himself is eager to nourish and guide His saints in their hours of conflict.
The one great message of this book makes clear the truth that through it all, the Lord's servant may be, and should be, "as his Lord."
Oswald Chambers (1874-1917) is best known for the classic devotional My Utmost for His Highest. Born in Scotland, Chambers had a teaching and preaching ministry that took him as far as the United States and Japan. He died at age forty-three while serving as chaplain to Allied troops in Egypt during World War I.