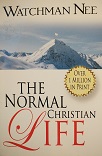 Title:             The Normal Christian's life
Author:        Watchman Nee
Imprint:      U.K., CLC Publication, 2009
Collation:    254 pages
ISBN:            978-0-87508-990-4
Class Code: 初信 T N C L -WN
Watchman Nee's great Christian classic tracing the steps along the pathway of faith and presenting the eternal purpose of God in simple terms. Its central theme: "Christ our Life."
Watchman Nee based his speaking on the first eight chapters of the New Testament book of Romans. Nee takes the first eight chapters of Romans as a "self-contained unit" and divides these chapters into two parts: Romans 1:1 to 5:11 as part one and Romans 5:12 to 8:39 as part two. In the first part of Romans "sins" is given prominent attention and deals with the question of the sins man has committed before God. However, the second section deals with "sin," that is the inward nature, or inward working principle, within man that causes a man to commit sin. Thus there is a difference between the acts of a sinner, sins, and the inward nature of a sinner, sin. Nee reveals that God's dual remedy is the Blood of the Lord Jesus Christ and the Cross of Christ. The Blood "deals with what we have done, whereas the Cross deals with what we are. The Blood disposes of our sins, while the Cross strikes at the root of our capacity for sin".[4] As Nee progressively moves along in his book, he first touches upon the Blood and then focuses upon the Cross for the remainder of the book.
If only every Christian and pastor would read this, take it to heart, and let the Holy Spirit lead. My thought is similar to Watchman Nee's concern though, that many of us would take this to heart, but continue in our ways trying to make it happen, or turning it into our own ministry with our own rules and beliefs. Oh, that we would let the Holy Spirit lead. There is no division of the church or the Body of Christ except on the basis of Location. I think Watchmen Nee makes a very good case for this in this book.
Watchman Nee, or Ni Tuosheng (Chinese: 倪柝声4-11-1903— 30-05-972), was a Chinese church leader and Christian teacher who worked in China during the 20th century. In 1922, he initiated church meetings in Fuzhou that may be considered the beginning of the local churches. During his thirty years of ministry, Nee published many books expounding the Bible. He established churches throughout China and held many conferences to train Bible students and church workers. Following the Communist Revolution, Nee was persecuted and imprisoned for his faith and spent the last twenty years of his life in prison. He was honored by Christopher H. Smith (R–NJ) in the US Congress on July 30, 2009.