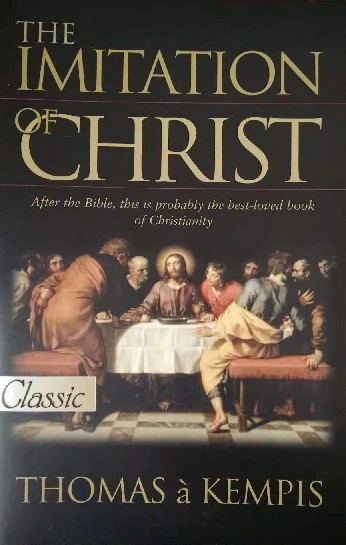 Title:                  The Imitation Of Christ
Author:             Kempis, Thomas, 1380-1471.
Imprint:           U.S.A., Newberry, Bridge-Logos, ©1999.
Collation:        333 p., 140*215 mm.
ISBN:                978-0-88270-766-2
Class Code:     培灵 T I O C -TAK
Summary
The Imitation of Christ, which first appeared in the late fifteenth century, has without exaggeration been called the most widely read work of devotion ever written. It encourages us to live a life devoid of worldly vanities and, in the words of St. Paul, to put on Christ–that is, to imitate Christ, in order to find peace and fulfillment.
Written by a German monk for his fellow clergy, The Imitation of Christ has appeared in nearly two thousand editions and translations since it was first set in then-newly-invented movable type. Making its message out of hundreds of passages from Scripture, it succeeds in creating a powerful and attractive picture of the spiritual life for readers of any age or era.
About the Author
Thomas à Kempis(1379/80-1471)is remembered for one literal work:The imitation of Christ. He probably wrote the four books that comprise it sometime between 1420 and 1427-since the first hand-written manuscripts appeared around 1427. He was educated by a religious order called the Brethren of the Common Life, and in due course joined the order, was ordained a priest, became sub-prior of his house (in the low Countries), and died 25 July 1471 (his feast is observed a day early to avoid conflict with that of James bar-Zebedee the Apostle).
Thomas is known almost entirely for composing or compiling a manual of spiritual advice known as The Imitation of Christ, in which he urges the reader to seek to follow the example of Jesus Christ and to be conformed in all things to His will.